The Service Bulletin Builder program greatly simplifies the selection of the service music. The Music tab allow the user to make various music selections.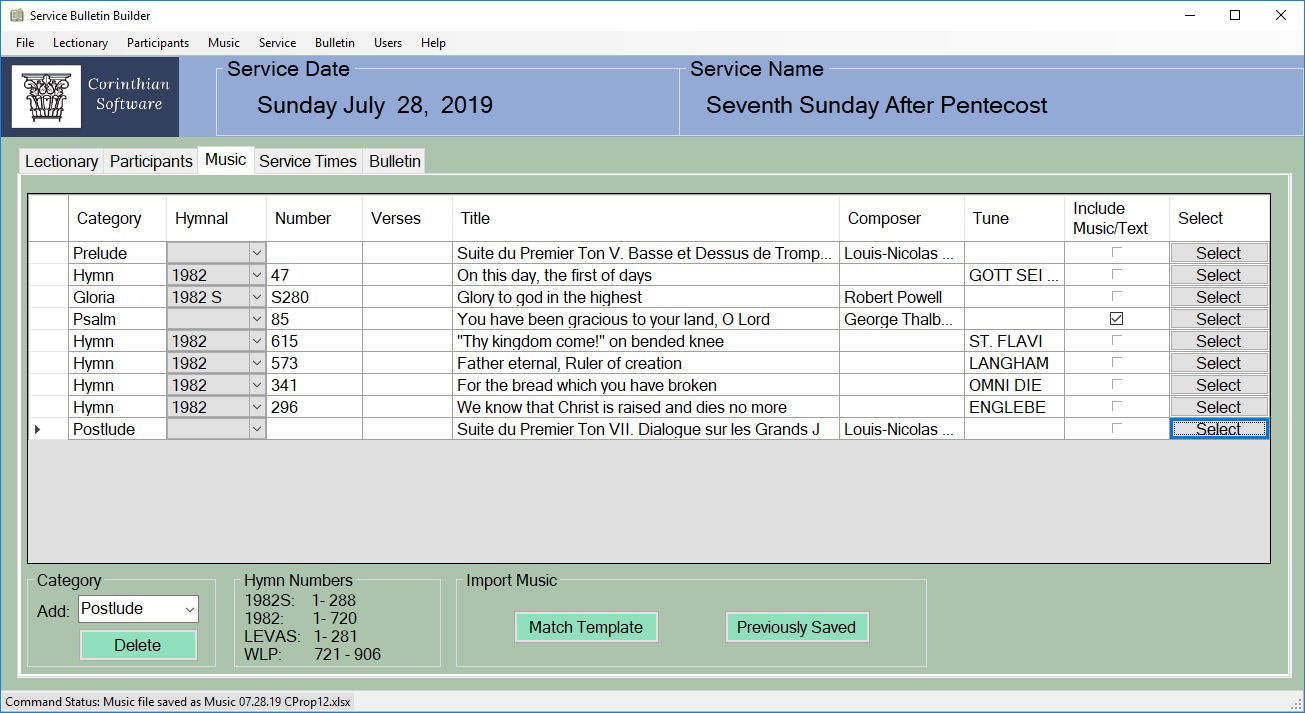 It includes the following features:
Music Selector
Allows the user to build a list of all the music for the service that typically changes from week to week:
Prelude
Introit
Hymns
Psalm
Anthem
Postlude
Hymn Selection
An easy-to-use Hymn Selection screen allow the user to pick each hymn from 3 different hymnals:
1982 Hymnal
Wonder Love and Praise
Lift Every Voice and Sing
For each hymnal, the Hymn Selection screen provides a complete listing of the available hymns.
The list shows the hymn numbers, the hymn name and the tune.
A subset of hymns in the hymnal may be listed by selecting a one of the categories shown in the Contents section of the Hymnal. For example, only Easter hymns may be listed. This feature makes it easy to select hymns for a particular liturgical season.
Service music and Psalms
The Service Music such as the Psalms, Agnus Dei, Kyrie Eleison Gloria may also be selected via screens that are similar to the Hymn Selection screen.
Preludes, Postludes and Choral Music
The titles of Preludes, Postludes and Choral Music may be included in the bulletin along with the composer name. The user has the option of including the music text in the case of choral music or adding descriptive notes for the prelude or postlude.
An Excel spreadsheet is used to store all the music information so that it can be used in future service bulletins without the need to re-enter any additional information.
Importing Music
Music files for hymns, Psalms or service music may be imported and included in the bulletin. Various types of music files may be used including Word documents, JPG files and TIF files. This feature allows that output from other programs such as Rite Song to be included in a bulletin.
Program Music Database
When a music file is imported, it is included in the program's music database which is stored in an Excel spreadsheet. It can be easily accessed at any subsequent time.
Collaboration
The Director of Music may select the music in advance of the service bulletin being generated. The music selections may be saved to an Excel file and then opened by the Parish Administrator in order to build the service bulletin without having to enter any additional information.
The list of participants may be prepared by someone other than the Parish Administrator and imported into the program. The participant file may span a time period of several weeks so that it only has to be updated periodically throughout the year.